Show Your Work

By: Austin Kleon

Chapter 7 -
Quote:


Questions:

How do you know when to share, and when to listen? What's the best way to show your listening electronically?


Connection:

One of my favorite books is called "Ripples from the Zambezi

", by Ernesto Sirolli. It's a collection of stories and experiences gained while Sirolli spent the first half of his career working for an Italian NGO as a community developer in Africa. His mission was always to teach. To bring some added value to the lives of the people he worked with and for. In the Zambezi River Valley, tells a story that changed the trajectory of his life. Upon arriving in the valley, the first thing he noticed is that no one was utilizing the banks of the river for agriculture. This, to an Italian, seemed absurd. To have access to such fertile land and not be growing on it was beyond comprehension, and Sirolli and his team immediately set out to bring modern agriculture to the Zambezi River Valley. They worked for months, cajoled the locals into helping, and waited. After some time the seeds they planted began to turn into amazing red tomatoes, cucumbers, zucchini, and more. Sirolli and his team were so excited, and couldn't believe that the locals still rarely showed up to work. He began to think that the problem was the locals were lazy. One morning, Sirolli and his team went down to the banks of the river and were horrified to discover that all of the crops they had toiled over had been completely consumed by hippos who, having patiently waited until the food was just ripe enough, came out of the river and had a feast. Sirolli found a local and screamed, "WHY DIDN'T YOU TELL US ABOUT THE HIPPOS?" To which the local calmly replied, "because you didn't ask." From this Sirolli learned the lesson that shaped summed up the rest of the book, if you want to know what someone needs, shut up and listen.


​Epiphany:

Being a member of a sharing community means spending time listening rather than always contributing.

Chapter 8 -
Quote:


Questions:

How can I get better at receiving and filtering criticism?


Connection:

Everyone knows, if you're going to put yourself out there, you're going to take a few (or a ton of) punches. People's honesty can sometimes be brutal, whether it's invited or not. You have to have a plan to deal with it. Not all feedback has value. If someone is just being unfairly negative, you have to learn to ignore them. Tune out the noise. The temptation is to respond back, but the truth is, you can't fight fire with fire (which I didn't come up with, and actually you can). But seriously, responding to them will only feed their negativity, so don't. That being said, not all negative feedback, while it may not be tactfully worded, is wrong. Maybe I'll just leave that there.


​Epiphany:

If you're going to put yourself out there, you have to be ready to take the good with the bad.

Chapter 9 -
Quote:


Questions:

How can the need for money affect the creative process?


Connection:

I get it. We all need to make money. But this chapter didn't sit well with me. I understand that making money is important, but being creative and making money are two things that are not always connected. In order to make enough money to be creative full-time, you have to be able to scale up whatever it is you're creating and produce things that will appeal to a large audience. Your creativity should be a reflection of you. And people may not always want it. If you change what you create in order to appeal to more people, you run the risk of becoming a painter who paints houses rather than an artist. You might be making money and getting by, but just think of what you could have accomplished.


​Epiphany:

Maybe making money by being creative isn't for me.

Chapter 10 -
Quote:


Question:
How do you know when to stay and when to go?

Connection:

While this seems like a simple thing, in my experience it's the hardest thing to do. We all want our ideas to be instantly loved and adored by others. This couldn't be better exemplified than by the recent (or not so recent, depending on your perspective) boom in companies offering the service of adding hundreds or even thousands of fake followers to people's Instagram accounts. It seems like everyone's in on it, but no one ever talks about it. I've never done it, but I understand why it's so popular. The truth is, gaining a following organically is time consuming and painstaking. There's something to be said for just hanging in there. Looking back at people who have successfully been "noticed", it's easy to believe that they're creative genius was discovered overnight. In reality, most successful people work tirelessly for years and years before they see any success. I used to work as a youth director. I had a small circle of friends who ran their own youth programs. As ridiculous as it might sound, everyone secretly compared numbers. When I was first hired as a youth director, I remember a friend of mine, who had a particularly large program, said, "Don't plan on seeing any results from your efforts for at least three years. It takes time to build relationships. Then you can expect people to show up

." That was a gem that stuck with me and encouraged me when program after program had to be canceled. But, that didn't last forever, and he was right, eventually I had a great program.
​Epiphany:

If it's worth it, hang in there.
Powered by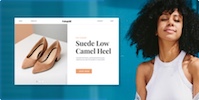 Create your own unique website with customizable templates.