"Tapping the deepest energies of teachers, or any employees, requires a connection with big, meaningful themes that promise a significant, positive effect on the world."

In this article, Thomas Markham highlights the tension that exist within the current state of the education system. It's a tension, according to Markham, "between

inquiry and project based approaches versus testing and standards." It represents a growing question as well - why is there an increasing difference between the demands of the modern workplace and the system of education we use to prepare young people for that workplace? More importantly, how can we begin to turn that around? Markham offers four insightful ways that teachers can begin to work towards a better future in their classrooms. They are...

Appreciate the power, beauty, and challenge of the present moment.

Contribute to a global vision.
Redefine smart.

Live the collaborative reality.

These simple ideas almost read like meditations for the modern educator. They cut right through the fog of outcome metrics and get down to the less tangible but more necessary outcomes of education. It's clear that we need to change our approach. As the gap widens between the demands of

the modern workplace and the outcomes of our education system, we are doing a disservice to our students if we don't.
Powered by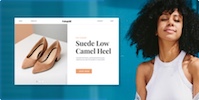 Create your own unique website with customizable templates.